I'm excited to be a part of the first Bendigo Open Studios! Running for 3 days Saturday - Monday 6-8th March 2021 10am to 4pm. I'll be exhibiting along side my sister Bridie Margret O'Toole in her small studio in Eaglehawk. www.bendigoopenstudios.org
• art • bendigo • bendigo open studios • open studios • sisters
Bendigo Open Studios 13-15th OCT 2023!!
Frankie and Bridie are at it again! Come and see all the amazing Bendigo Artists in their Studios for the Open Studios Long Weekend!!
---
The next Adult Bird Embellish workshop is set for the 16th of September!!  If you have always wanted to try my Bird Embellish workshops, or just looking for an enjoyable creative afternoon come along and I promise you will have an amazing experience! All materials supplied including a fabulous afternoon tea,  No experience Necessary! Time 11.30 to 3.30pm at Frankie O's studio in Valentines Antique Gallery, View Street Bendigo.  Bookings can be made through my website under WORKSHOPS or just send me an email at frankie@frankieo.com or message me on Instagram or Facebook onedrawingadaybyfrankieo Can't wait to see you there! Frankie...
---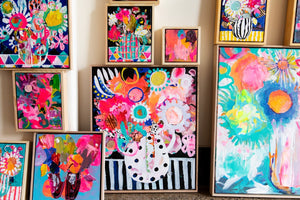 Blooms launching 1st September 2023
---
I'll be running one of my fabulous Bird Embellish workshops in conjunction with my Solo Exhibition SWOOP at the Living Arts Space in Bendigo. Date: 1st April 2023 Time: 12.30-4.30pm Cost: $155 Book: Email me directly at frankie@frankieo.com  or call the Bendigo Visitors Information Centre on 1800 813 153
---
I'm so excited to have a solo exhibition at the Living Arts Space in Bendigo!! 'SWOOP' showcases a collection of my vibrant hand embellished Australian Bird Prints alongside some florals and iconic Bendigo images!!  20th of February to the 23rd of April, opening celebrations on the 4th of March 2-4pm. Everyone is welcome to come and celebrate with me!!!